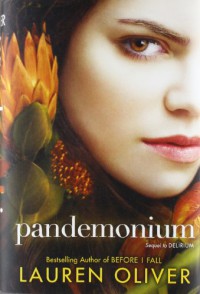 Lauren Oliver's Pandemonium delivered—intriguing story, better character development and finally, some action!
Oliver continues the story of Lena, the main character from Delirium who was infected by deliria. This book picks up right where the first one left off. I loved how Oliver crafted the story. Instead of just giving us a blow by blow detailing we get a flash back – flash forward technique. The flash backs are labeled as "Then". In those chapters we learn what happened to Lena immediately after entering The Wilds. The flash forward chapters, labeled as "Now", follow Lena's life six to eight months after entering The Wilds. This technique, in my opinion, moved the story along. I was always intrigued to either find out what had happened or what was about to happen.
In Pandemonium you will want to know everything that happens with Lena. This time she is stronger, bolder and a little wiser. She's no longer the naive little girl waiting for her Procedure. Now she abhors it and is fighting to eliminate it from society. Finally!
After living in The Wilds, Lena has learned some valuable skills which she'll use to save a new character, Julian. He is totally likable from his first introduction. He is described as someone you should probably pity, but, amazingly you don't. Instead you get the feeling that there is a lot more to him just under the surface.
But, Julian isn't the only character that you'll like right away. Oliver brings a new batch of tough Invalids that you'll admire. They've all been through hell and back but are thriving in The Wilds. Even their names are interesting: Raven, Tank, Hunter, Bram.
Once again, Oliver gives great descriptions. The book is vivid with details about The Wilds and even the characters. I loved it!
A word of warning…don't read this one without having the last book in the trilogy handy! Oliver gives a serious cliffhanger in Pandemonium.
It goes without saying that I thoroughly enjoyed this installment!